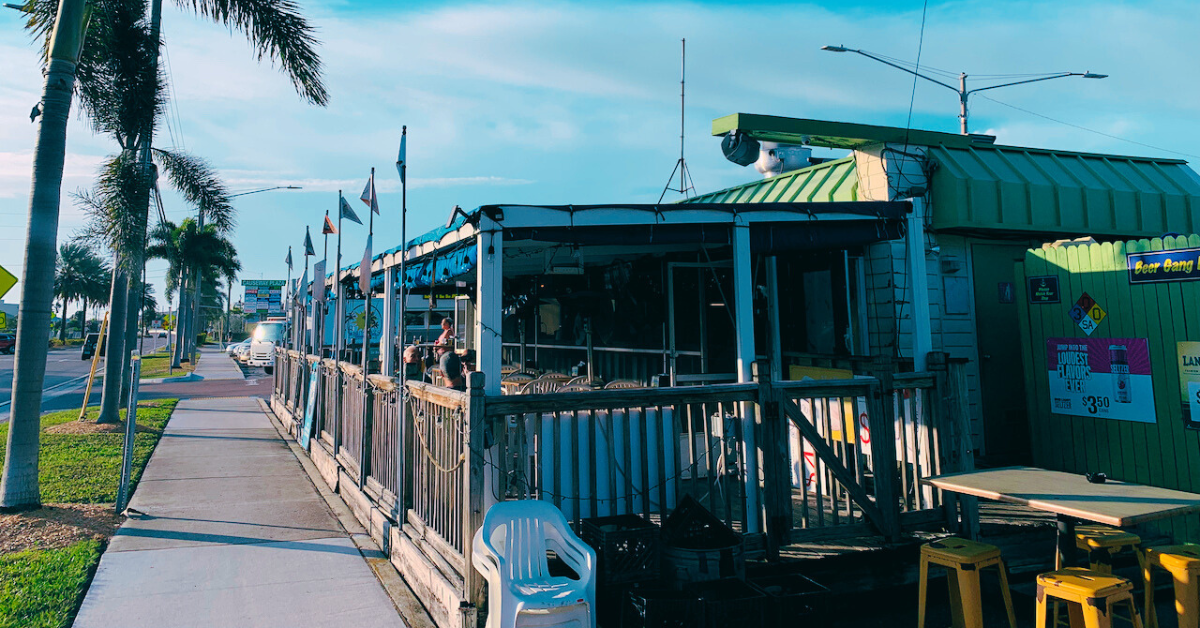 Welcome to Sandbar Grill, the ultimate destination for outdoor dining and entertainment in Dunedin, Florida. Nestled in the heart of this charming coastal town, Sandbar Grill offers a delightful blend of delicious food, live music, and an inviting open-air ambiance. Whether you're a local resident or visiting the area, Sandbar Grill is the perfect spot to relax, unwind, and savor the vibrant atmosphere that Dunedin has to offer.
Experience the Ultimate Outdoor Dining at Sandbar Grill in Dunedin, Florida

Sandbar Grill: Unleashing Culinary Delights
At Sandbar Grill, the culinary experience takes center stage. The menu is thoughtfully crafted to satisfy every palate, with a wide range of mouthwatering options to choose from. Indulge in the freshest, made-to-order hamburgers, each bite bursting with flavor and juiciness. For those seeking a lighter fare, the assortment of fresh salads provides a refreshing and nutritious choice. The grouper, cooked to perfection, is a must-try for seafood enthusiasts. And don't forget to savor the hand-breaded chicken tenders, an all-time favorite that guarantees to please.
Each dish at Sandbar Grill is prepared with meticulous attention to detail, ensuring that every ingredient is of the highest quality. From the perfectly seasoned patties to the crisp vegetables and tender chicken, every bite is a testament to the culinary expertise of the chefs at Sandbar Grill.
Immerse Yourself in the Lively Atmosphere
One of the key highlights of Sandbar Grill is its lively atmosphere. Located in a prime open-air location, Sandbar Grill allows you to dine and unwind while enjoying the warm Florida breeze. The spacious layout provides ample seating options, whether you prefer a cozy table for two or a gathering with friends and family. The charming outdoor setting creates a vibrant and energetic ambiance, perfect for a memorable dining experience.
Live Music: The Soundtrack to Your Evening
At Sandbar Grill, the excitement doesn't stop at the food and ambiance. Prepare to be serenaded by the talents of local musicians, who take the stage at least four nights a week. As you enjoy your delectable meal, let the soothing melodies or upbeat tunes of live music create the perfect backdrop for an unforgettable evening. From acoustic performances to energetic bands, the diverse lineup at Sandbar Grill ensures there's always something for everyone.
Two Full Liquor Bars: Quench Your Thirst
No dining experience is complete without a refreshing beverage. Sandbar Grill offers two full liquor bars, stocked with an impressive selection of libations to suit every taste. Whether you're in the mood for a handcrafted cocktail, a local craft beer, or a fine glass of wine, the skilled bartenders at Sandbar Grill are ready to cater to your preferences. Sit back, relax, and enjoy your drink of choice as you soak in the lively atmosphere.
Explore the New Sandbar Grill Menu
Sandbar Grill is constantly evolving to delight its patrons with new culinary experiences. Be sure to check out the new menu, which showcases exciting additions and seasonal specialties. From limited-time offerings to innovative twists on classic favorites, the new menu at Sandbar Grill promises to ignite your taste buds and keep you coming back for more.
Plan Your Visit Today
Ready to embark on a culinary adventure at Sandbar Grill? Discover the perfect blend of delicious food, live music, and open-air ambiance in Dunedin, Florida. Visit our website to explore the enticing menu and plan your visit. Don't miss out on the opportunity to experience the ultimate outdoor dining experience at Sandbar Grill.
Check out the New Sandbar Grill Menu
Discover Dunedin: A Coastal Gem
Located on the stunning Gulf Coast of Florida, Dunedin is a charming town that offers a delightful blend of natural beauty, rich history, and vibrant culture. Known for its picturesque waterfront views and welcoming community, Dunedin is a hidden gem that attracts visitors from near and far.
Dunedin boasts a vibrant downtown area, filled with unique shops, art galleries, and delightful eateries. Stroll along Main Street and immerse yourself in the local charm as you explore the boutiques and specialty stores that line the streets. The town is also known for its love of the arts, with numerous art festivals, galleries, and live performances that showcase the creative spirit of Dunedin.
Honeymoon Island: A Natural Paradise
Just a stone's throw away from Sandbar Grill, you'll find Honeymoon Island, a natural paradise that beckons outdoor enthusiasts and beach lovers alike. Accessible by the Dunedin Causeway, Honeymoon Island State Park is a breathtaking destination that offers pristine sandy beaches, crystal-clear waters, and an abundance of wildlife.
Explore the park's nature trails, which wind through lush vegetation and lead to picturesque viewpoints overlooking the Gulf of Mexico. Keep an eye out for the native wildlife, including ospreys, eagles, and gopher tortoises, as you immerse yourself in the tranquility of the island.
Honeymoon Island is also renowned for its stunning beach, where you can soak up the sun, take a refreshing swim, or simply relax with a good book. The powdery white sand and gentle waves create a serene setting that is perfect for unwinding and enjoying the natural beauty of the area.
For those seeking adventure, Honeymoon Island offers opportunities for fishing, kayaking, and even spotting dolphins playing in the waters. Whether you're a nature enthusiast or simply looking for a peaceful retreat, Honeymoon Island is a must-visit destination that complements your experience at Sandbar Grill.
Conclusion
Nestled in the coastal town of Dunedin, Florida, Sandbar Grill offers not only a remarkable dining experience but also easy access to the natural beauty of Honeymoon Island. Take the time to explore Dunedin's charming downtown, filled with unique shops and galleries, and immerse yourself in the local culture. Then, venture to Honeymoon Island, where you can bask in the sun, explore nature trails, and enjoy the stunning beaches. Combine these experiences with the delectable food, live music, and open-air ambiance at Sandbar Grill, and you have the perfect recipe for an unforgettable visit to Dunedin, Florida.