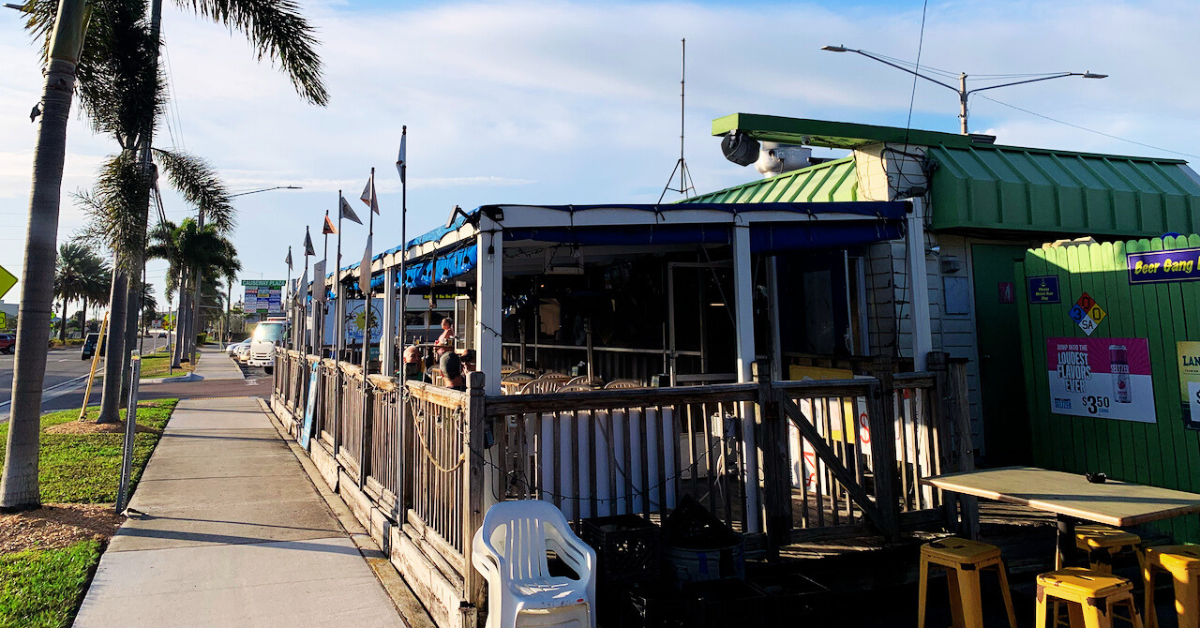 Welcome to Sandbar Grill, your ultimate destination for a fantastic bar and grill experience in Dunedin, Florida. If you're searching for a place that offers exceptional specials and live music, look no further. We take pride in providing our customers with delectable food, a lively atmosphere, great deals, and fantastic live entertainment.
Join us at Sandbar Grill, conveniently located on the Dunedin Causeway, and prepare yourself for an unforgettable dining experience filled with music and flavor.
Experience the Best Bar and Grill Specials and Live Music in Dunedin, FL at Sandbar Grill

Delicious Weekly Specials to Satisfy Your Cravings
At Sandbar Grill, we believe in making every day special. That's why we have crafted a lineup of irresistible weekly specials that will leave you coming back for more. From Monday to Friday, you can enjoy a range of enticing deals that cater to all tastes.
If you're looking for a satisfying lunch option, we've got you covered from Monday to Thursday between 11 am and 2 pm with our delectable Lunch Specials. Available for dine-in only, these specials are designed to give you a midday boost that will keep you going strong throughout the afternoon. Indulge in our mouthwatering combination of 6 wings served over a bed of crispy fries for just $8.95. It's a flavor-packed lunch that hits all the right spots. And to wash it down, quench your thirst with our 16 oz Busch cans priced at an incredible $2.50.
Let's kick off the week with our Monday special. All day and night, enjoy a generous $2 off our famous moonshine lemonade slushies. These refreshing and tangy drinks are the perfect way to beat the summer heat and start your week on a high note.
Tuesdays are all about craft beer enthusiasts. Join us any time during the day or night and indulge in our $5 craft cans. We have a wide selection of craft beers that will tantalize your taste buds and introduce you to new and exciting flavors.
Wednesday is a special night at Sandbar Grill because we have $4 Red Stripe and it's Open Mic Night hosted by Brad Myers. From 6 pm to 9 pm, local artists are welcome to come and play their music, creating a vibrant atmosphere that adds to your dining experience. It's a wonderful opportunity to discover talented musicians in the Dunedin community.
Unwind with Exciting Deals on Different Days of the Week
As the weekend approaches, the excitement at Sandbar Grill only intensifies. Thursdays are all about wings and pitchers. From 5 pm until closing time, savor the perfect combination of a pitcher of Landshark beer and 10 wings for only $20. And if you're feeling adventurous, we offer $4 shots of Fireball to add some extra spice to your evening.
Friday nights at Sandbar Grill are filled with tropical vibes. Enjoy our famous $5 Rum Punch while listening to live music performed by talented musicians. It's the perfect way to unwind and kickstart your weekend festivities.
Saturdays at Sandbar Grill bring rotating specials and live music performances by Rockin' Rob, Me & Leone, and Matt Plaisted. Check our entertainment schedule to see which talented musician will be performing on any given Saturday in July.
Live Music Events to Enhance Your Dining Experience
In addition to our delicious specials, we offer a lineup of live music events throughout July to elevate your dining experience. Here are the upcoming live music performances at Sandbar Grill:
– Thursday, July 6th and 13th: Derek Sivers (6 pm – 9 pm)
– Friday, July 7th: Billy McGourley (6 pm – 9 pm)
– Saturday, July 8th, 14th, 21st, and Thursday, July 27th: Rockin' Rob (6 pm – 9 pm)
– Saturday, July 15th and 29th: Me & Leone (6 pm – 9 pm)
– Thursday, July 20th: Steve McNulty (6 pm – 9 pm)
– Saturday, July 22nd: Matt Plaisted (6 pm – 9 pm)
– Friday, July 28th: Brad Myers (6 pm – 9 pm)
Please note that our live entertainment schedule is weather permitting and subject to change without notice.
Are you ready to experience the best of bar and grill dining combined with fantastic live music? Visit Sandbar Grill, your go-to bar and grill in Dunedin, Florida. Indulge in our delicious weekly specials, unwind with our refreshing drinks, and enjoy the captivating performances of talented musicians. Join us on the Dunedin Causeway and make unforgettable memories. Check our live entertainment schedule and plan your visit today!
TL;DR (Too Long; Didn't Read) summary of the specials at Sandbar Grill:
TL;DR: Sandbar Grill in Dunedin, FL offers a range of irresistible specials and live music events. Enjoy mouthwatering Lunch Specials from Monday to Thursday, featuring 6 wings over fries for $8.95 and 16 oz Busch cans for $2.50.
Don't miss the $2 off moonshine lemonade slushies on Mondays and $5 craft cans on Tuesdays.
Wednesdays bring "Hooray for Humpday" with $4 Red Stripe beers.
Thursdays mean wings and pitchers with a $20 deal on a pitcher of Landshark beer and 10 wings, plus $4 shots of Fireball.
Fridays offer $5 Rum Punch, and Saturdays feature rotating specials and live music.
Sundays are for indulging in 32 oz Margaritas for $8 and 32 oz Bloody Marys for $9.
Join Sandbar Grill for great food, drinks, and a lively atmosphere, complemented by live music performances by talented musicians throughout July.
Please note that these specials are valid until the end of July 2023 at Sandbar Grill in Dunedin, Florida.