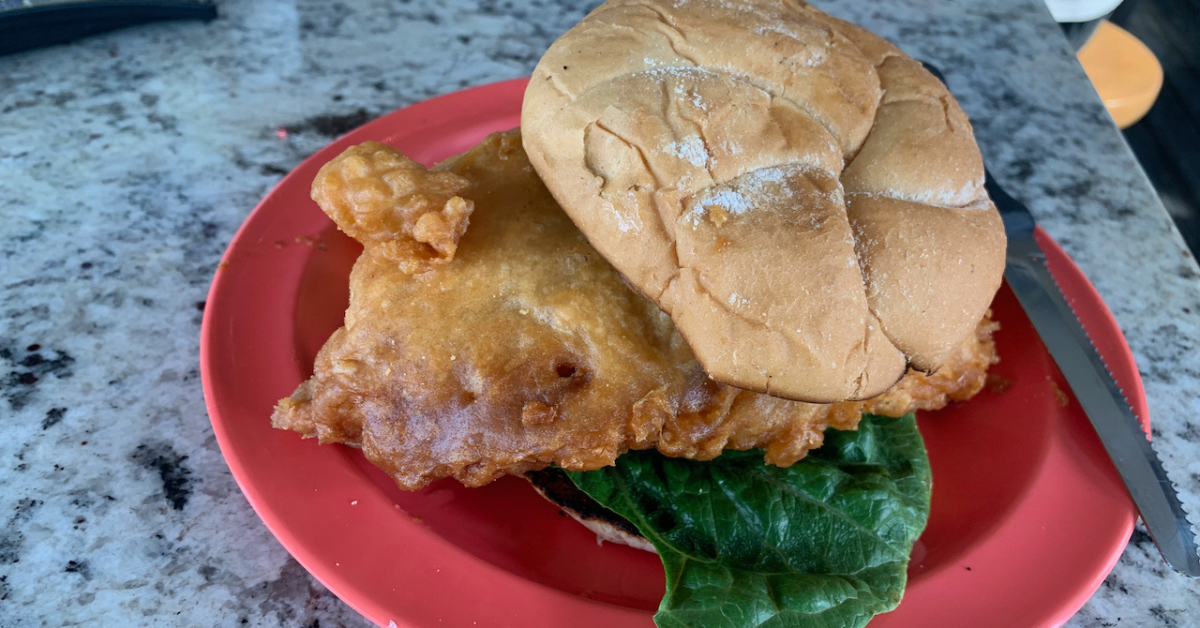 Craving a late night food fix? Look no further than the Sandbar Grill located in Dunedin, Florida. Whether you're looking for a late night snack, an after-party meal, or a post-game bite, the Sandbar Grill has you covered with its wide selection of seafood, hamburgers, and other delicious items. With its open air establishment and friendly atmosphere, the Sandbar Grill is the perfect spot for a late night food run.
The Best Late Night Food Place In Dunedin, Florida: The Sandbar Grill

What makes The Sandbar Grill great?
The Sandbar Grill in Dunedin, Florida is a great late night food place. Not only do we serve up delicious seafood, hamburgers, fresh salads, and more, but we are also located right on the Dunedin Causeway which leads to beautiful Honeymoon Island. We're also only a 2-minute hop from Downtown Dunedin.
With a fun and inviting atmosphere, this restaurant is the perfect spot to grab a bite after a long day or afternoon out. Plus, did you know that Dunedin was the first official town in Pinellas County, Florida?
We've been serving up the best late night food for over 25 years! Stop by The Sandbar Grill for a tasty meal and an even tastier atmosphere.
We also have plenty of parking for cars and golf carts, and a large bike rack so that you can safely store your bike when you come to eat.
The Sandbar Grill's Menu
At the Sandbar Grill, we offer a wide variety of delicious dishes. Start your meal off right with some of our amazing appetizers. We have Fried Pickles, Jalapeno Poppers, Gator Bites, Shrimp Jammers, and Wings.
Our extensive menu also includes Salads, Soups, All Beef Hot Dogs, Sandwiches, Wraps, and Large Dinner Plates.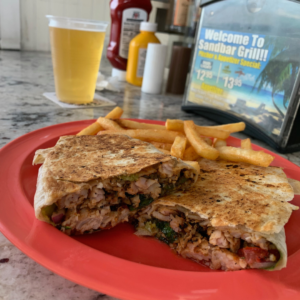 Popular items among the locals include our Fried Grouper Fingers, MASSIVE Haddock Sandwich, and our Seaside Combo.
All of our dishes are cooked to perfection and sure to tantalize your taste buds! Come visit us today to experience all that The Sandbar Grill has to offer.
The atmosphere of The Sandbar Grill
When you visit the Sandbar Grill, you'll be greeted by a unique outdoor bar and grill atmosphere. Situated on the corner of the Dunedin Causeway and Bayshore Blvd our open-air establishment has 2 full liquor bars and a wide selection of draft and craft beers.
Whether you're looking for a fun evening out or simply wanting to grab a quick bite to eat after a long day, the Sandbar Grill is the perfect spot.
The atmosphere at the Sandbar Grill is warm and inviting. Every night of the week we offer happy hour from 4 pm – 7 pm. We also have all-day shot specials.
Our covered deck has plenty of table seating available and you can often find local live music guests performing Thursday through Sunday. You can check our entertainment calendar to see who's playing and when. We have special music guests scheduled at various times throughout the month so there's always something new and exciting to experience.
If you don't feel like going out and would rather stay in, we also offer take-out and dine-in options. Our menu is filled with classic American favorites including seafood platters and the best hamburgers around. So no matter what your late-night craving might be, we've got you covered.

Why The Sandbar Grill is the best late night food place in Dunedin, Florida
At The Sandbar Grill, we understand that the late night food experience needs to be just right. We offer delicious menu options like fresh seafood, juicy burgers, and crisp salads, as well as an array of sides and drinks. Our kitchen is open until 10 pm (11 pm Friday and Saturday), ensuring that you get the most out of your evening.
The atmosphere at The Sandbar Grill is perfect for a night out. With a spacious outdoor patio and spectacular views of the sunset, there's something for everyone. We have a fully stocked bar with both alcoholic and non-alcoholic beverages, as well as a great selection of local craft beers on tap. Plus, our friendly staff will make sure you have a great time!
But what really sets us apart from other late night food places in Dunedin is our commitment to excellence. We strive to make sure that each and every customer has a positive experience when they visit The Sandbar Grill. From our friendly staff to our delicious food and drink options, we're committed to making sure that you have a memorable evening.
Conclusion
If you're looking for a great late night food spot in Dunedin, Florida, then look no further than the Sandbar Grill. With delicious seafood, hamburgers and more, plus an awesome atmosphere, the Sandbar Grill is sure to satisfy all of your late night cravings. So come on down and check us out at 2602 Bayshore Blvd, Dunedin, Florida 34698!
Have a question? Give us a call at (727) 734-1962.