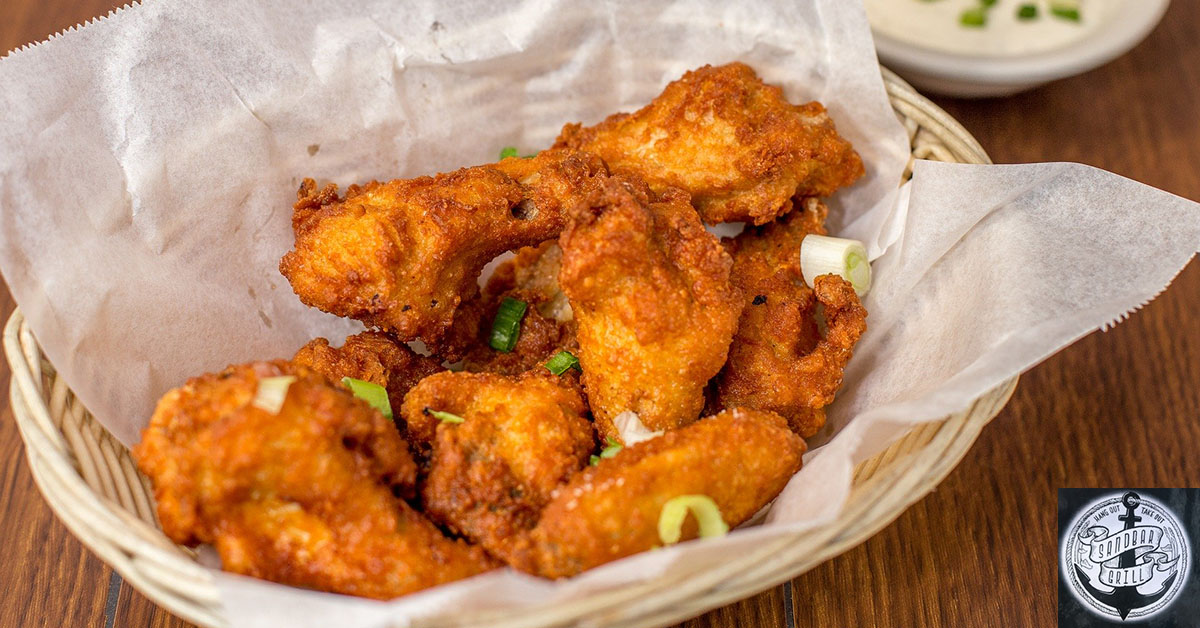 When it comes to Dunedin wings, here at Sandbar Grill, we know just what you're looking for! Served with bleu cheese dressing and celery, our wings are the perfect amount of crisp and deliciously seasoned. Drop-in and see us here at Sandbar Grill and you can grab 10 wings for a quick between-meal snack, 20 wings for a full meal, or 50 wings to share with friends!
Dunedin Wings: The Perfect In-Between Meal Snack!
We love those traditional chicken wings here at Sandbar Grill. With a great kick of flavor, you'll find these wings under the appetizer section of our menu – although, if you go for a platter of 50 wings, you can make a meal of them or – if you're feeling generous, you could share with everyone at your table!
…but what if you're not a fan of chicken wings?
Well, even if you're not fan of chicken wings, we have plenty of food options to select from. Looking for an appetizer? We recommend these dishes!
Buffalo Clam Strips – Our buffalo clam strips are fresh strips of clam coated with our tangy Buffalo sauce and served with a side of cocktail sauce or tartar sauce depending on which you would prefer!
Fried Mushrooms with Tiger Sauce – If you're more of a veggie-lover, you'll love our fried mushrooms with Tiger Sauce.
Nachos Loaded with Sour Cream – If you want another appetizer that risks getting your hands dirty, our loaded nachos with sour cream are ideal! Made with chili, cheese, lettuce, tomato, and Jalapenos, you'll want to really dig in those chips to get as much topping as you can fit on top of each of your nachos!
Looking for an entree Dish?
If you're wanting to find something a little more filling, we've got you covered here too! We recommend giving one of these entrees a try to see what you think!
Not a fan of wings? Try our fresh-off-the-grill hamburgers instead! Served piping hot, our burgers are made with 6oz. of delicious beef and handmade, so you don't have to face a puny pre-made frozen burger!
Our Hot Pressed Cuban is another fan favorite here at Sandbar and even if we do say so ourselves, this is a sandwich that you have to try for yourself in order to see just how perfectly seasoned it is!
Fried Grouper Fingers – It's not every day that you find fried grouper fingers on a restaurant menu, but we've got them on our menu just for you! A great twist on fried chicken fingers or fish fingers, this dish is made with fresh local seafood and plenty of love and we know that you'll just have to add this meal to your list of all-time favorites!
Looking For Delicious Dunedin Wings?
If you're in Dunedin and you're looking for delicious wings, be sure to come by and see us here at Sandbar Grill. We've got crispy wings with perfectly seasoned sauce and crisp fresh celery on the side! Sound good to you? Then head on over to see us at 2602 Bayshore Blvd, Dunedin, FL 34698.