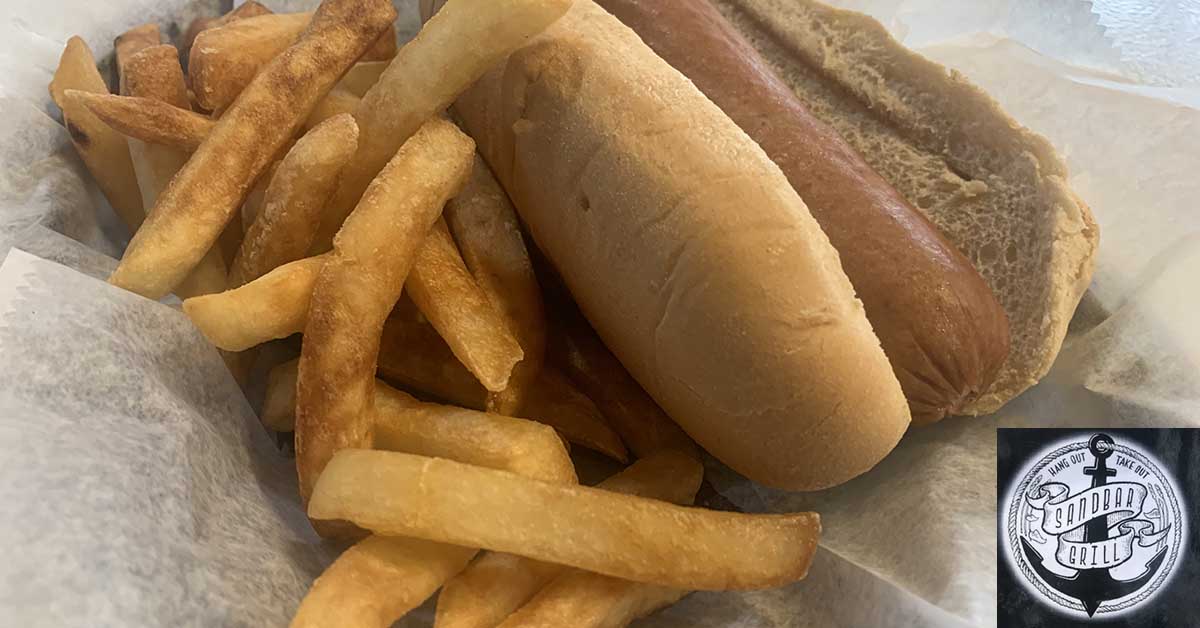 If you're looking for Pinellas hotdogs then it's about time that you dropped in to see us here at Sandbar Grill! We've got a menu jampacked full of options with something for everyone, but if hotdogs are what you're craving…well, just take a look at some of the options we've got going on!
Pinellas Hotdogs, A Full Menu to Choose From at Sandbar Grill
So, you are craving hotdogs? We've got some of the best hotdogs in the area, just take a look at our reviews and you'll see that people just can't get enough of our all-beef dogs!
What do we have on the menu? Check out these options:
Chicago Style Dog – Our Chicago dog features one of our all-beef hotdogs topped with mustard, relish, onion, tomato, celery salt, pickles & sport peppers.
Hot Dog – If you're looking for a good old fashioned hotdog, grab our plain hotdog. A delicious all-beef hotdog served in a soft fresh bun and ready for mustard, ketchup, or whatever else you fancy!
Kraut Dog – Have a taste for sauerkraut? If so then you're going to love our Kraut dog! One of our all-beef hotdogs topped with tangy sauerkraut!
Cheese Dog – Have a hankering for cheese? (We don't blame you!) Grab our cheese dog and indulge in our all-beef hotdog topped with plenty of cheese!
Chili Dog – Thinking of something a little more hearty? We've got a chili dog with your name on it! One of our all-beef hotdogs topped with hearty, perfectly seasoned chili!
Slaw Dog – More of a fan of slaw than of kraut? Don't worry, we've got a dog for you too! Our all-beef hotdog topped with plenty of our freshly made slaw!
Corn Dog – Some people would argue that a corndog isn't the same as a hotdog, but our corndogs are made with our delicious all-beef hotdogs and they're absolutely incredible so you may just want to order an extra one…or two…
Grilled "Vienna" Bratwurst – Okay, technically this is Bratwurst and obviously not a hotdog, but we had to include it on our hotdog menu because it's a "must try" item from our menu if you are a hotdog fan!
Want to make your hotdog a meal and not just a snack? We've got some incredible sides to choose from including:
French fries
Sweet potato fries
Onion rings
Potato salad
Coleslaw
A bowl of soup or bisque
Green beans
A Bowl of chili
And don't panic, if hotdogs aren't your thing, we're got much much more to choose from, just take a look at our menu!
Ready to Try Our Pinellas Hotdogs?
If you're ready to give our Pinellas hotdogs a try just drop in and pay us a visit here at Sandbar Grill at 2602 Bayshore Blvd (1.38 mi) Dunedin, Florida 34698. Not sure how to find us? Give us a call at (727) 734-1962 and we'll help you to find your way!