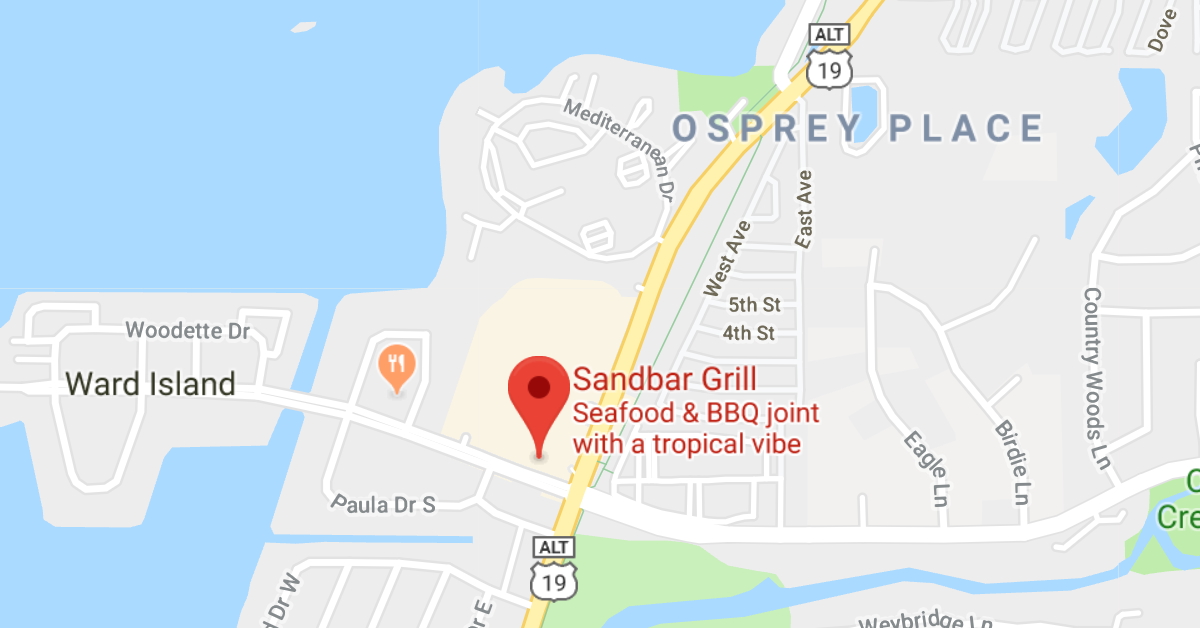 Looking for Bayshore Blvd food options for lunch between meetings? Or perhaps you're nearby on vacation and enjoying the local beaches but craving something fresh off the grill for lunch? Whatever the reason you're here in Dunedin, if you're looking for hot, fresh off the grill, Sandbar Grill has got you covered!
Bayshore Blvd Food: 5 Reasons to Try Sandbar Grill in Dunedin
1. Quality Food
When it comes to eating at any restaurant, cafe, or bar, quality food is an important consideration and here at Sandbar Grill, we offer just that! Our food is always fresh and hot off the grill and you'll never get food that's been sitting on a hot plate so that it's tepid and stale. Not only that, but – and we shouldn't have to say this, but some other restaurants make it mandatory – we never serve you "fresh from the microwave" options!
2. A Diverse Menu
In addition to serving quality food, you'll also find that Sandbar Grill Dunedin also always has a diverse menu with plenty to choose from. We don't believe that anyone in the family should get left out when you go out to eat which is why we always include something for everyone on our menu. We've got fish for those of you who are looking for fresh fish, we've got burgers for you grilling traditionalists, we've got BLT's for you bacon lovers, and for those of you with a sweet tooth, we've even got malts!
3. The Ambience
Here at Sandbar Grill, we're not your fancy, dress-up-in-uncomfortable-clothes-to-go-out-to-eat, type of joint. We want you to feel relaxed and comfortable so that you can enjoy your food without having to feel like you're stuffed into a sausage casing! We're all about comfort and good food, so drop by, grab a seat, make friends with some locals (or don't – it's up to you!), and unwind. You'll be hardpressed not to unwind and relax with the sun, sea, and sand all around you!
4. Affordability
Affordability is a big part of eating out for many families. Many families have very limited choices when it comes to eating out at a restaurant because it's just not an affordable option, particularly if you're a large family! Here at Sandbar Grill, we want to give you another option to fast food when it comes to a family meal out. Our most expensive dish on the menu is $26.95 for a huge seafood platter which is great if you're looking to splurge, but you can also grab most of our meal options for a little over $10!
5. We Offer a Kid's Menu
We know that it's not always easy to go out and grab something fresh and hot off the grill at a local restaurant with kids in tow. We make the process a little easier with a kids menu that's tailored to include the classic favorite dishes like grilled cheese, hot dogs, and chicken tenders. Of course, your younger family members aren't limited to the kid's menu, they're free to select any of our adult-sized dishes too!
Ready to Grab Bayshore Blvd Food?
If your belly is rumbling and you can't wait any longer, head on over to Sandbar Grill and we'll get you something hot and fresh off the grill to satisfy your appetite. Whether you're craving Mahi Mahi, a juicy burger, or just a chocolate malt, we do it all!