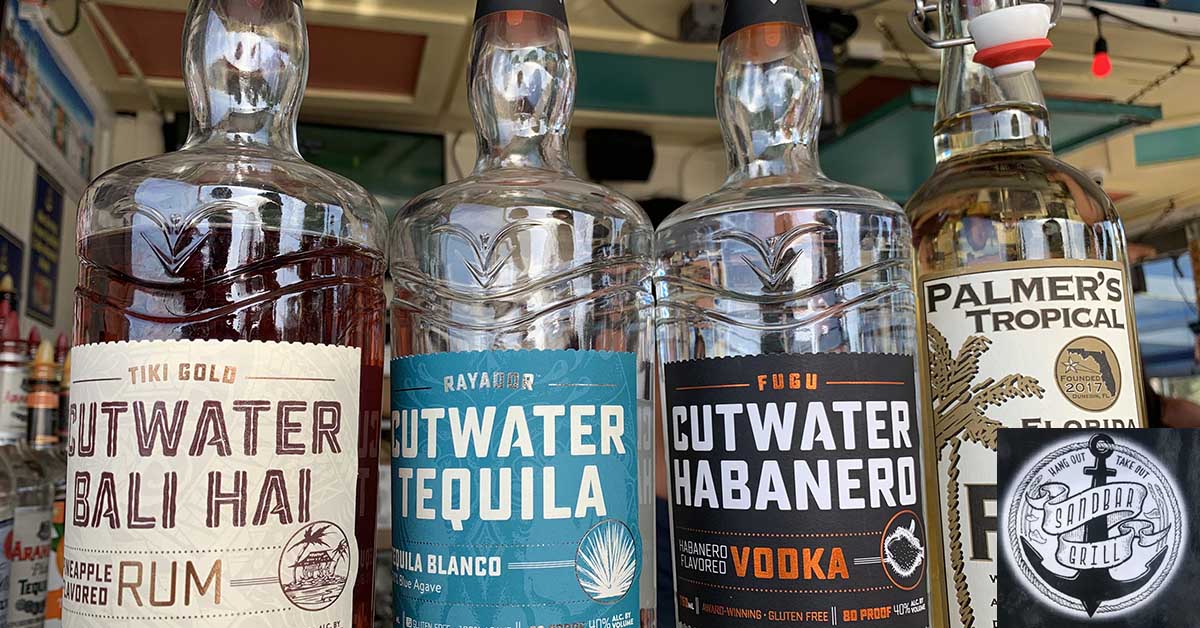 If you're looking for a Dunedin liquor bar where you can grab a delicious cold drink as well as a fresh off the grill hotdog made just the way you like it, drop by and pay us a visit here at Sandbar Grill!
Dunedin Liquor Bar: Sandbar Now Sells Local Liquors!
Here at Sandbar Grill, we recently made a change that we think you all will be excited about because we sure are! We added a local liquor bar! So, not only do we now offer refreshing liquor drinks that you can enjoy, we offer local liquors that support our local businesses (something they all need right now!)
Here are just a few of the new liquors that we are offering!
Tiki Gold Cutwater Bali Hai Pineapple Flavored Rum
The ideal rum for your favorite cocktail, this pineapple flavored rum is in exceptionally high demand after being featured in Rolling Stone, Men's Journal, and U.S. Weekly. You will love the smooth tropical flavor of this pure cane sugar rum and it's the perfect ingredient in those beachside drinks while you enjoy the Florida sun!
Rayador Cutwater Tequila Blanco
Rayador Cutwater Tequila Blanco is another great liquor that's in high demand after being featured in top men's magazines. Made from 100% blue agave harvested from Jalisco that's slow-cooked in brick ovens this is a heavily sweet liquor that is a must-try for you tequila lovers out there!
Fugu Cutwater Habanero Flavored Vodka
Cutwater Fugu Horchata Vodka is a sweet cinnamon drink that packs an incredible punch. Again, this must-try liquor was featured in those popular magazines we mentioned above and it's in incredibly high demand. We're doing our best to keep it in stock, but we don't know how long we'll be able to keep this one on the shelf! This drink has a fruity and refreshing finish that's like nothing you've tasted before!
Palmer's Tropical Florida Gold Rum
Palmer's Tropical Florida Gold Rum is just one rum in a whole line released by Palmer's and it's being hailed as a player in the New American Rum Revolution! This batch made rum isn't something you'll find anywhere that stocks rum, but we managed to snag some for our new local liquor bar section!
Drop In To See Our Dunedin Liquor Bar For Yourself Today!
Come on by and see us and try some delicious local liquors while you enjoy some grub fresh off the grill! Whether you're a rum drinker, a vodka lover, or one of those tequila fanatics, we'll be waiting for you with clean glasses and some great local flavor!